iHeartRadio Employee Playlist of the Month: Ferhat Ozduran
Working at iHeartRadio has its perks, like connecting with top talent in a variety of fields, learning about rising artists before anyone else and being surrounded by great music. We want to bring this unique experience straight to you guys through our blog with the iHeartRadio Employee Playlist of the Month, a new monthly post featuring our work family, their favorite songs, and an inside look into what employee life is like at iHeartRadio.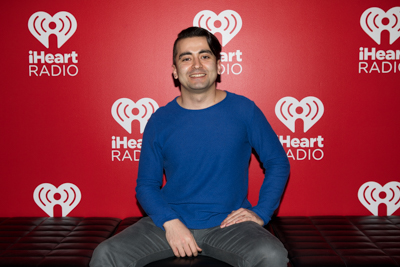 To kick off the iHeartRadio Employee Playlist of the Month series, we'd like to introduce you to Ferhat Ozduran, Senior Software Engineer for iHeartRadio. 
Take a listen to his playlist here or check out the full list below.
Why did you choose the songs on your playlist?

Each song in this playlist can either relax me with a chill melody or get me moving with a steady beat. Even when I'm tired, the songs trigger a smooth head nod to the rhythm, if not full on dancing. I can pretty much listen to each song in single track loops :)
I can't say I love specific genres or follow any one artist. I connect with music for a variety of reasons - maybe it's beautiful vocals, a catchy melody, or mostly random songs I come across on a mixed digital radio station. But one thing I like for sure is smooth female vocals in a progressive house song.
When do you listen to this playlist most?
These upbeat songs keep me energetic and in a good mood. When I come home from work and still need to be productive or when I'm on a bike ride alongside Hudson River, this playlist keeps me moving.
Who is your favorite artist or song?
I'm not a big fan of one particular artist, I usually just pick songs I like. But I can say I like most songs by Röyksopp and Coldplay.
Can you share your most memorable music moment experience?
It was at the 2014 iHeartRadio Music Festival in Las Vegas, when John Newman surprised the crowd and showed up to join Calvin Harris for the live debut of "Blame" as the closing song - such a thrilling moment! The whole arena started dancing. It was a great song to close a two-day festival, pumping energy and euphoria into the crowd on a Saturday night. Still one of my favorite songs as you can see in the playlist :)
What is the best part about working at iHeartRadio?
It's the culture, passion and appreciation that iHeartRadio employees maintain across throughout the entire team. You can look around and see that people love what they do and work hard. And the best part is that management and other team members appreciate and recognize everyone's hard work.
A fun fact about myself is…
I have a pet ball python named Octo. Even though she has been my roommate for the last four years, I don't think she recognizes me yet. I still love her though, even after she bit me twice!
1.    Coldplay, "Adventure Of A Lifetime"
2.    Coldplay, "A Sky Full of Stars"
3.    Calvin Harris feat. John Newman, "Blame"
4.   Kaskade, "Disarm You (feat. Ilsey)"
5.    Röyksopp & Robyn, "Do It Again"
6.    Kaskade feat. Mindy Gledhill, "Eyes"
7.    Gorillaz, "Feel Good Inc."
8.   Daft Punk feat. Pharrell Williams, "Get Lucky"
9.    Daft Punk, "Giorgio by Moroder"
10.  Kiesza, "Hideaway"
11. Deorro feat. Erin McCarley, "I Can Be Somebody"
12. Röyksopp, "I Had This Thing"
13. Röyksopp & Robyn, "Monument"
14.  Gnarls Barkley, "Crazy"
15.  Adam Levine, "No One Else Like You"
16. Gorillaz, "On Melancholy Hill"
17. Röyksopp, "Röyksopp Forever"
18. Bee Gees, "Stayin' Alive (Serban Mix)"
19. Afrojack, "Ten Feet Tall"
20. Calvin Harris & Alesso, "Under Control"
21. Coldplay, "Viva La Vida"
22. Empire Of The Sun, "Walking On A Dream"
23. Above & Beyond feat. Zoë Johnston, "We're All We Need"
24. Röyksopp, "What Else Is There?"
25. Kaskade, "4 AM" ​​​​​​​​​​​​