Employee Playlist of the Month: Samuel Watkinson
Is it December already? Before you dive head first into holiday music for the rest of the month, rock out to our Senior Software Engineer Samuel Watkinson's playlist. Spoiler alert! He loves Despacito as much as you do! Check out the rest of his playlist below.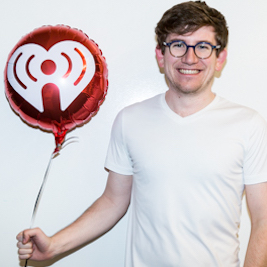 ​How come you chose the songs on your playlist?
The summer before I started at iHeartRadio, I listened to Bon Iver's "22" while walking to work to resign.
It's a song about impermanence and change. That theme, change, is the through-line that ties the rest of this playlist together for me: every song on this playlist was an obsession for me during some personal inflection point over the last few years.
This is the case down to the last song. "Killing Giants" is a track that has been on repeat during the inflection point I find myself in now, as I prepare to move back to my home province of British Columbia. It's a sort of quirky bridge between the pop-punk of my early teens in western Canada, and the heavy electronica of my early 20s in Montreal.
When do you listen to this playlist most?
I love flying. The thought and the physical feeling of leaving the ground to go somewhere new is always quite emotional for me, especially when coupled with the emotional impact of any of the songs from this playlist. This is a playlist for the moment the plane takes off.
Who is your dream artist to meet and why?
This month: Haywyre.
Most of my favorite artists stand out through refinement of a compelling formula.
Haywyre is different. His every song seems to effortlessly span five or more genres: he goes from epic and cinematic orchestral work, to tight and choppy electro-funk in the blink of an eye. I have a lot of questions for this guy!
Can you share your most memorable music moment experience?
The first time I ever heard "Despacito" was the night before my Hack Day team flew down for the iHeartSummer '17 Weekend event in Miami. I immediately remarked, "I bet we're going to hear this in Miami!"
The next day, right after checking in, we heard it. Despacito was playing on repeat in the hotel courtyard. We went outside to see why.
Despacito was playing on repeat because Luis Fonsi was at our hotel, filming his performance for the iHeartSummer '17 Weekend telecast!
What is the best part about working at iHeartRadio?
The individual friendships I've made at iHeart are just amazing, but I often get the sense that I have a real friendship with the company as a whole. Management is always eager to hear our feedback and respond quickly, there are so many opportunities to get closer with coworkers, and the office always feels warm and welcoming. I feel profoundly lucky to be a part of it!
A fun fact about myself…
When I was a kid, my dad and I would make pancakes every weekend. The rule was we could never use the same recipe twice, which led to some wacky innovation. Turns out peppermint pancakes are actually pretty great!
22 (OVER S∞∞N) — Bon Iver

Holocene — Bon Iver

Perfect World — Broken Bells

Adventure Of A Lifetime — Coldplay

Despacito — Luis Fonsi

Nothing Like This — Blonde & Craig David

Never Forget You — Zara Larsson & MNEK

The Man — The Killers

Open Eye Signal — Jon Hopkins

Front to Back — Buku

Closer — Laszlo

Little Too Close (feat. Veronika Redd) — WRLD

Beebears Violinterlude — Moody Good

Circle — Slipknot

I Am Me — Haywyre

By Design — WRLD

Killing Giants (feat. Richard Caddock) — Puppet & Murtagh​​​​​
 ​