Image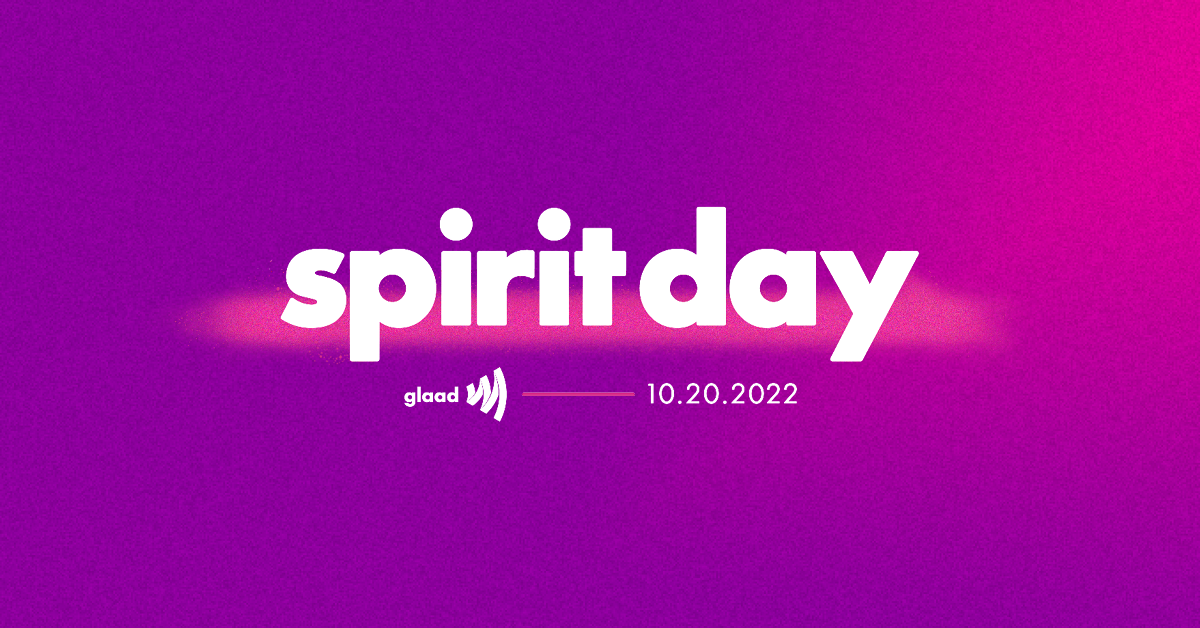 Join millions in supporting LGBTQ youth and 'go purple' for #SpiritDay
Guest blog by Tony Morrison, GLAAD's Senior Director of Communications.
For a sixth consecutive year, iHeartRadio is continuing its partnership with GLAAD to support Spirit Day, the world's largest and most visible LGBTQ anti-bullying campaign. Join iHeartRadio and millions of people worldwide as we "go purple" today, October 20, 2022, to take a stand against the bullying of lesbian, gay, bisexual, transgender and queer (LGBTQ) youth. Along with iHeartRadio, artists joining GLAAD on this powerful day of action include Aly & AJ, Sterling K. Brown, Idina Menzel, Maren Morris, Mothé, Jake Wesley Rodgers, to name a few.
On Spirit Day, GLAAD organizes hundreds of celebrities, major TV networks, brands, landmarks, sports leagues, tech leaders, influencers, faith groups, school organizations and more to signal to LGBTQ+ young people that we have their backs. The annual tradition was started in 2010 by high school student Brittany McMillan, in memory of the LGBTQ youth who lost their lives to suicide. McMillian encouraged her friends to wear purple on a day in October – a day that came to be known as Spirit Day. Purple also symbolizes spirit on the rainbow flag.
As reported by multiple studies, bullying still drastically and disproportionately affects the lives of LGBTQ youth.
The Trevor Project, a leading organization specializing in youth crisis prevention, reports LGBTQ youth who experienced anti-LGBTQ victimization — including being physically threatened or harmed, discriminated against, or subjected to conversion therapy — cited more than twice the rate of attempting suicide in the past year compared to those who did not have any of these anti-LGBTQ experiences, according to their 2022 National Survey on LGBTQ Youth Mental Health. The report also reveals an alarming upward trend in suicidal thoughts among LGBTQ youth with large disparities for transgender youth and LGBTQ youth of color, with 45% of LGBTQ youth seriously considered attempting suicide in the past year, nearly 1 in 5 transgender and nonbinary youth attempted suicide, and LGBTQ youth of color reported higher rates than their white peers.
Now more than ever, LGBTQ youth need our support. iHeartMedia and GLAAD have joined forces to let LGBTQ youth know: we see you, we celebrate you, and we will not let others bully you for who you are – not at school, not at home, not anywhere. Leading up to Spirit Day on October 20, iHeartRadio ran PSA's across its stations to highlight the impact bullying has on LGBTQ youth worldwide and encourage listeners to 'go purple' and take the Spirit Day pledge to unite against the bullying of LGBTQ youth of all backgrounds.
Do your part and take a stand against bullying and show support for LGBTQ youth by joining the Spirit Day movement and learn more by visiting glaad.org/spiritday, where you can take the Spirit Day pledge and learn more about how you and your community can support LGBTQ youth. Plus, check out PRIDE Radio, The Pulse of LGBTQ America, on iHeartRadio!