Image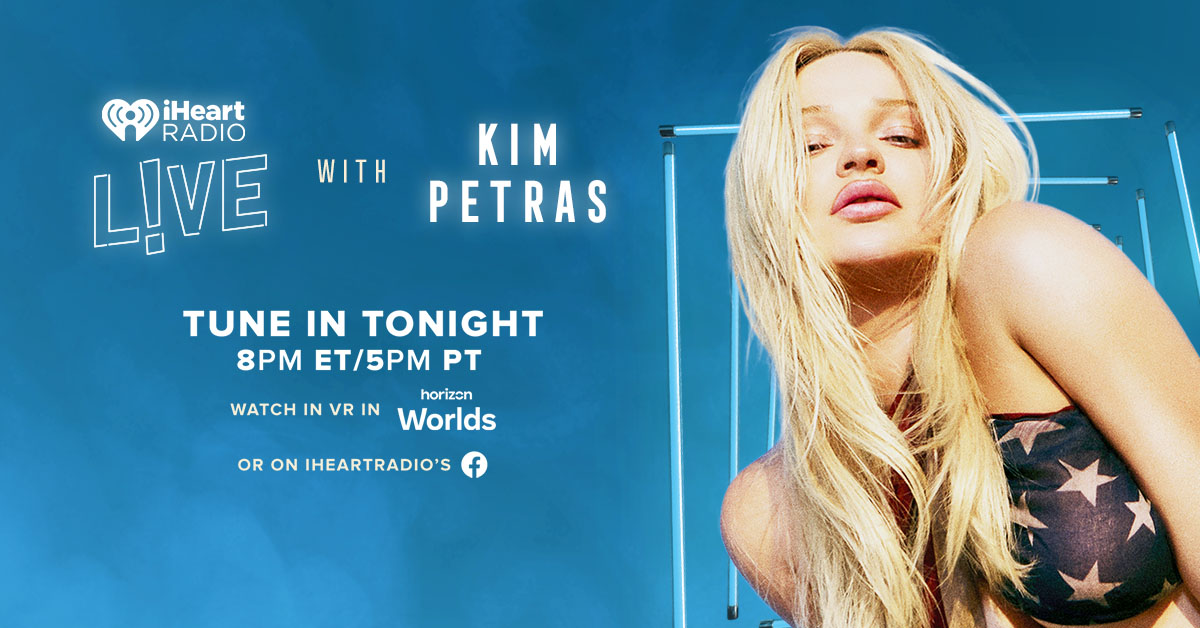 Artist of the Week: Catch "iHeartRadio LIVE with Kim Petras" Tonight!
Fans of Kim Petras are about to get an extra special treat as the pop sensation kicks off the new year with her "iHeartRadio LIVE with Kim Petras" performance on January 6. 
Fans can listen and tune in free for a stream of the exclusive "iHeartRadio LIVE with Kim Petras" on Friday, January 6 at 8pm ET/5pm PT. Fans with a Meta Quest 2 headset can view the VR performance in Meta Horizon Worlds and on iHeartRadio's Facebook.
The global pop sensation and critically acclaimed songwriter has become one of music's most buzzed-about talents, self-styling a massively dynamic career with a string of critically acclaimed singles and projects, more than a billion global streams, sold-out headline tours of North America and Europe, and lavish praise from major mainstream publications and taste-making outlets worldwide. "If Jesus Was A Rockstar" and "Unholy" follows a summer that included her serendipitously-timed cover of Kate Bush's "Running Up That Hill" becoming one of the most successful Amazon Originals of 2022, an Amazon mini doc that gave a look behind the scenes of her epic Coachella debut, and joining Christina Aguilera on stage for a show-stopping performance of her song "XXX" from Slut Pop. 
Petras, who released her newest single "if Jesus Was A Rockstar" last month, recently opened up about the tunes she's been working on for her new album. In a recent interview, Petras revealed of the themes that inspired her forthcoming release, "I'm super into Greek mythology at this moment. I'm super into rockstars, I'm really into a lot of Hollywood stories of people who didn't make it and what they did after and that kind of darkness of Hollywood." She continued, "It's an interesting mix of things. It's also kind of Berlin. There's definitely the Berlin kind of the Berghain moments that go a little harder sonically and some more techno in this round too but it's all over the place. It's really kind of the essence of me."
Get ready for "iHeartRadio LIVE with Kim Petras" by listening to her artist radio below!