Image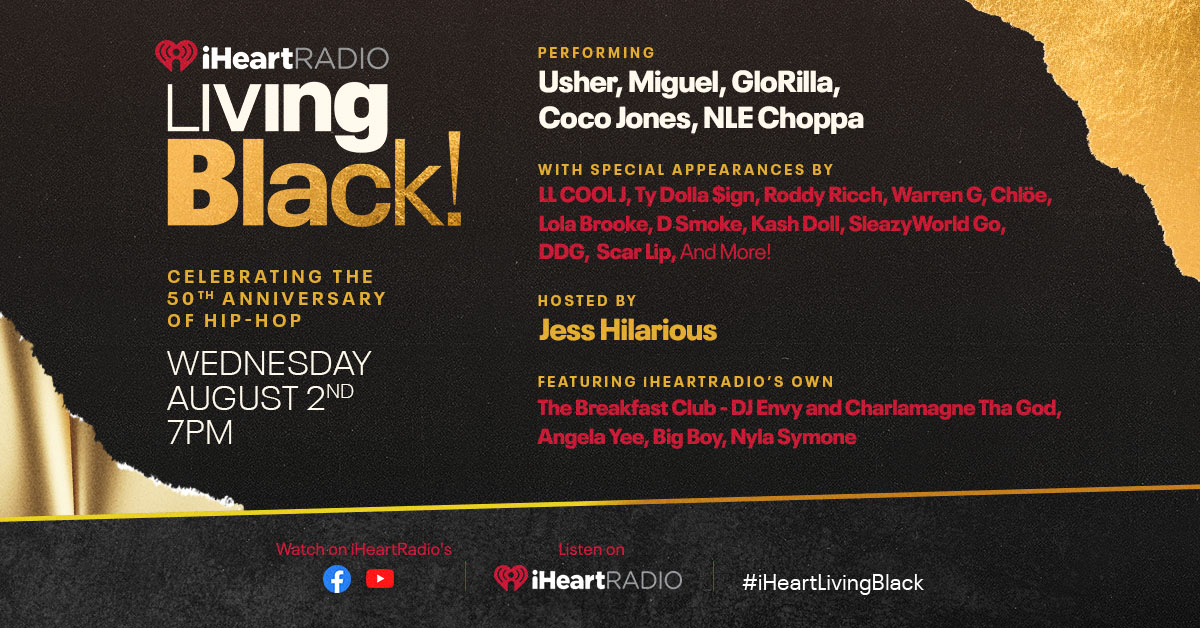 Artist of the Week: Celebrate Third Annual "iHeartRadio's Living Black!" All Month Long
Don't miss out on the third annual "iHeartRadio's Living Black!" 2023 Block Party, iHeart's epic celebration of Black culture and the 50th anniversary of Hip-Hop streaming for the rest of the month. 
Last week, iHeartRadio gathered some of the most influential artists and personalities to celebrate "iHeartRadio's Living Black!" 2023 Block Party, a special event that featured performances by Usher, Miguel, GloRilla, Coco Jones and NLE Choppa on Market Street in Inglewood, California, a hub for Black art, music, and culture in Los Angeles. 
In addition to the blockbuster performances, the special event also featured appearances from LL COOL J, Jeezy, Ty Dolla $ign, Roddy Ricch, Warren G, Chlöe, Lola Brooke, D Smoke, Kash Doll, SleazyWorld Go, DDG, ScarLip and more, including host Jess Hilarious. iHeartRadio personalities including The Breakfast Club's DJ Envy and Charlamagne tha God, Angela Yee, Big Boy and Nyla Symone were also part of the celebration.
The third annual event is inspired by the culture, history and innovation of Black culture and Hip-Hop. In addition to the music, the hour-long special is an interactive block party that brings Black culture to life while celebrating the 50th anniversary of Hip-Hop, which iHeart has been celebrating all year. iHeartRadio's Living Black!" exclusively streamed on iHeartRadio's YouTube and Facebook and broadcast on iHeartMedia Hip-Hop and R&B stations and the iHeartRadio app on August 2.
The show will be available on iHeartRadio's YouTube through August 30, so don't miss out and stream the special event today!