Tanya's Take On: Hailee Steinfeld
By this point you all should know I would never write about anyone or anything I didn't wholeheartedly believe in. Well, today I want to write about a song performed by someone who means even more to me than most—I actu​ally want her to be my little sister!
If you don't know who Hailee Steinfeld is… let me just start by saying that she is the most badass 18-year-old I know! Hailee recently played Emily in Pitch Perfect 2, and since then she has signed a record deal with Republic Records and just released her debut single "Love Myself" on Friday.
Before I get into my insane love for this song, let me tell you a little about why I love Hailee so much!
At her core, Hailee is solid! She doesn't have even an ounce of entitlement, and there isn't a mean bone in her body! I've had the pleasure of getting to know Hailee and her family over the last year, and I can say that I truly value everything about the person she is and the people she keeps close in her life. You know the saying "show me your friends and I'll show you your future"?  Well, if that's true, then Hailee has a bright future ahead of her!
https://www.youtube.com/watch?v=M_GPpv7gVqE
Now, let me tell you a little bit about her new single "Love Myself" and why I love it so much.
I think many of us, myself included, are our own worst critics. We say things about ourselves when we look in a mirror that we would never allow anyone else to say about us, and we often get stuck in vicious cycles of negativity and self-doubt.
Learning to love and accept yourself is one of the hardest things to do, especially for women. One of Hailee's lyrics really resonates with me: "Gonna love myself/ No I don't need anybody else/ Can't help myself/ No I don't need anybody else!" I love that Hailee is making such a big statement for her first step out into the music world!
Naturally, when Hailee invited me to be a part of her music video for the song, I jumped at the chance. I wanted to support this song—and most importantly the movement it represents!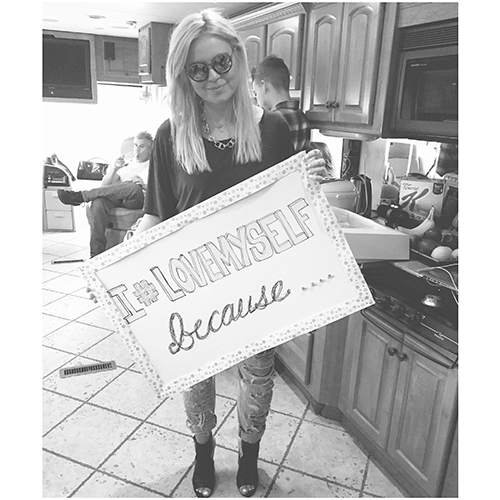 So, you might be surprised to learn that a 3-5 minute video requires at least a full day of shooting — I signed up for a filming slot of 2-4 p.m., but people were busy on set long before I got there and after I left.
Along with more of Hailee's friends and family, I arrived on the set - a giant mirror box in the middle of Downtown Los Angeles! We then had basically a two hour dance party, singing "Love Myself" at the top of our lungs.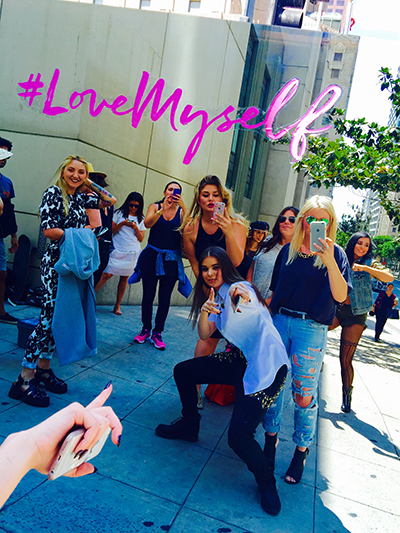 After the massive dance party we went back to Hailee's trailer and had some insanely delicious cupcakes that her friend brought her…and also, how cute are these?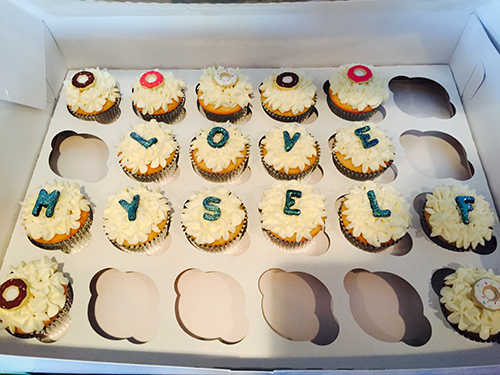 I left shortly after the cupcakes, but not before giving Hailee all the love and encouragement I could for this next phase of her life! She's on her way to becoming a total pop star and I am throwing all my support behind this girl…not just because she is talented but because of who she is as a person!