Image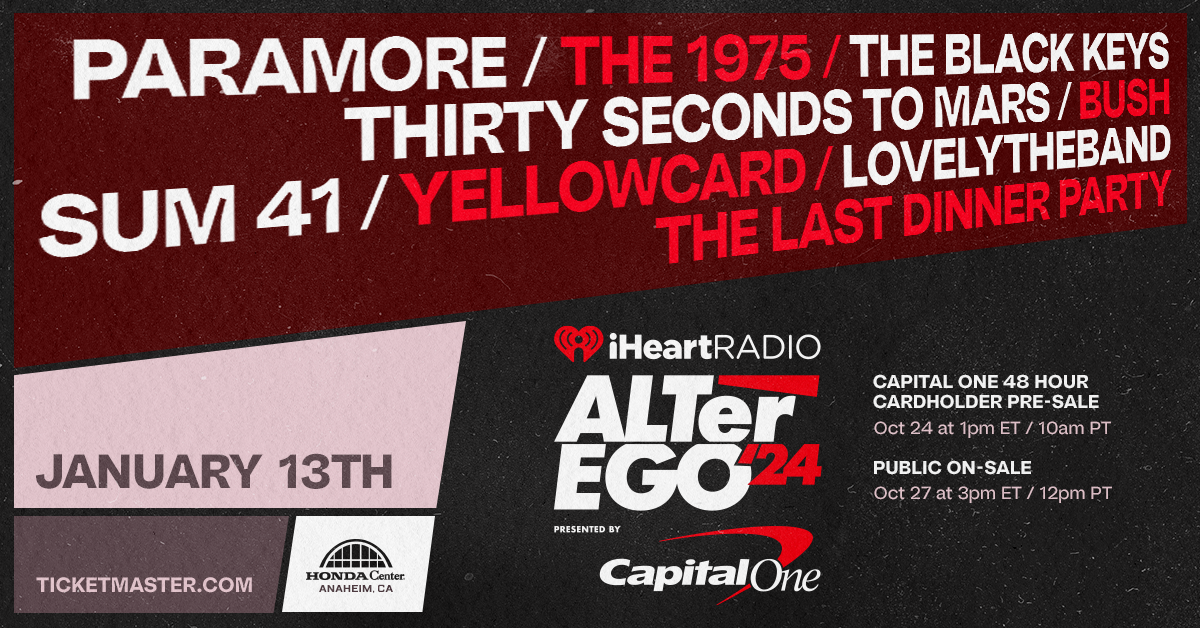 Artist of the Week: Check Out the 2024 "iHeartRadio ALTer EGO Presented by Capital One" Lineup!
Get ready to Rock in the New Year with iHeartRadio's 2024 ALTer EGO Presented by Capital One!
Set to take over the Honda Center for the first time on January 13, 2024, this year's lineup features acts from across the Rock and Alternative genres that will leave every fan jamming in their seats. 
The incredible lineup includes Paramore, The 1975, The Black Keys, Thirty Seconds to Mars, BUSH, Sum 41, Yellowcard, lovelytheband and The Last Dinner Party. iHeartRadio ALTer EGO will be hosted by Woody of iHeartRadio ALT 98.7's nationally syndicated "The Woody Show."
Fans of these bands will have a chance to access a limited number of tickets through ALT 98.7 24-hour VIP-Sale. Become an ALT VIP at www.alt987fm.com to access tickets beginning Thursday, October 26 at 10 a.m. PT through Friday, October 27 at 10 a.m. PT or while supplies last. 
Tickets go on sale to the general public on Friday, October 27 at 12 p.m. PT via Ticketmaster.com.
Don't miss out on this awesome event, and get ready to rock with iHeartRadio's ALTer EGO playlist below.