Image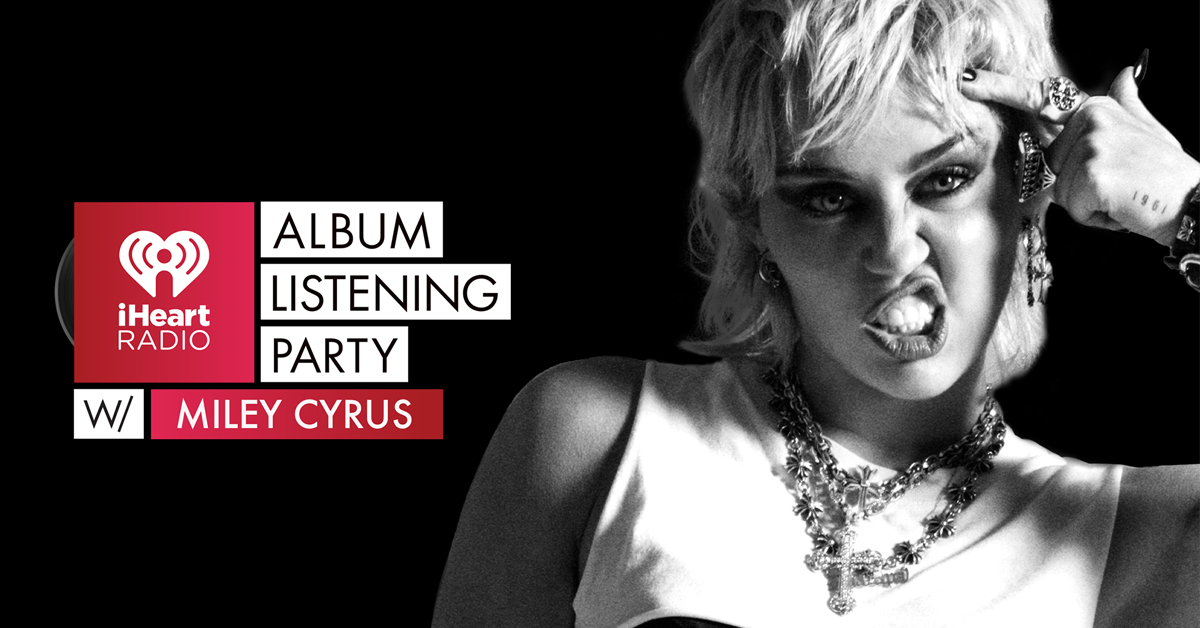 Artist of the Week: Miley Cyrus
Just one day after Thanksgiving, Miley Cyrus is giving fans another reason to say thanks. The pop superstar's brand new album, Plastic Hearts, is finally out today! 
To herald the arrival of her latest record, iHeartRadio is celebrating with Miley Cyrus during an exclusive album listening party broadcast and stream!
Next week, Miley joins iHeartRadio to listen along to some of her new Plastic Hearts tracks, and tell us about the making of the album (and more!) in an exclusive Q&A hosted by iHeartRadio's Elizabethany. Fans can tune in to watch at 7pm ET/4pm PT on Wednesday, December 2nd, via iHeartRadio's YouTube channel—or listen to the show on iHeartRadio's Hit Nation station.
Plastic Hearts is Miley Cyrus' seventh album, and follow up to her 2017 record Younger Now. The highly-anticipated project channels '80s glam rock vibes on singles like "Midnight Sky" and "Prisoner" featuring Dua Lipa. It also features 12 brand new songs, including collaborations with rock icons Billy Idol, Joan Jett and Stevie Nicks. Plastic Hearts also features Miley's live cover of Blondie's "Heart of Glass" from the iHeart Festival earlier this year.
Plastic Hearts marks a major comeback from Miley Cyrus, who faced a series of setbacks in the run-up to the album's release. Last year, she was forced to scrap a trio of planned EPs after undergoing throat surgery, losing her home to California wildfires and getting divorced from then-husband Liam Hemsworth. All of these events would inspire Cyrus to create Plastic Hearts instead, with Hannah Montana alum sharing on Instagram last month that she wrote the album because "EVERYTHING had changed."
"Nature did what I now see as a favor and destroyed what I couldn't let go of for myself. I lost my house in a fire but found myself in its ashes."
We're excited to see Miley Cyrus back at it again! Be the first to hear what could be her biggest album yet, Plastic Hearts is now streaming on iHeartRadio. Then, don't forget to tune into iHeartRadio's YouTube channel and Hit Nation station on December 2nd to hear exclusive album commentary and featured tracks from Miley!