Now Playing: iHeartRadio On Your Apple Watch
In case you haven't heard—though we've got a sneaking suspicion that you have—the long-awaited Apple Watch has finally arrived! As one of the first music apps to launch on Apple Watch, we're excited to be giving you yet another way to listen to your favorite radio stations and personalities: in your car, on your phone, through your Xbox and right from your wrist!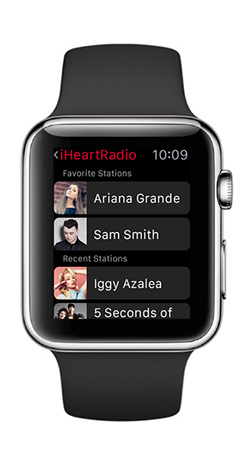 We flew out to Cupertino and worked with Apple engineers to deliver all your favorite iHeartRadio features, including instant access to
Live Radio
from across the country,
Custom Stations
based on specific artists or songs and thousands of on-demand
podcasts
. Other features like "For You," recommended stations and the thumbs up/down buttons are available, too. You can also use Apple Watch's speech technology to play music by simply saying an artist ("Taylor Swift") or station name ("Z100").  
The iHeartRadio app for Apple Watch will let you control your music with ease, giving you exactly what you want, when you want it, wherever you are! Just make sure you are using the most current version of the iHeartRadio app and you're ready to rock. Browse through your favorite and recent stations in the "My Stations" menu or discover new music by using Apple Watch's unique Force Touch menu, which is accessible through hard press on the player screen. Think of the Apple Watch as an iHeartRadio remote control that's always on your wrist.