iHeartRadio Hits the Road with Honda
The ways we can listen to music are practically endless, but driving in your car with the windows down and your favorite radio station blasting is arguably the best. Thanks to new technology that enables apps like iHeartRadio to be integrated right into your dashboard, your listening experience while driving is practically custom-fitted. Plus, slick technology like steering wheel controls and voice activation let you listen to your favorite stations easily, allowing you to keep your eyes on the road.
At iHeartRadio, it's our goal to make sure radio is available everywhere you are, no matter where you travel, without you ever having to worry about driving out of range from your favorite station. Over the last few years, we've worked to integrate iHeartRadio into an
assortment of cars
, and now, we're excited to introduce a new automaker to our lineup:
Honda
!
Beginning today, your favorite
live and custom radio stations and podcasts will now be available in Honda vehicles with HondaLink Next Generation Head Units, including the 2015 model Civic, Fit and CRV, as well as the all-new 2016 HR-V. All your favorite iHeartRadio features will be be available, too: you can add and access saved stations under "Favorites," fine tune your stations with the thumbs up and down icons and create stations based off of the song you're currently listening to.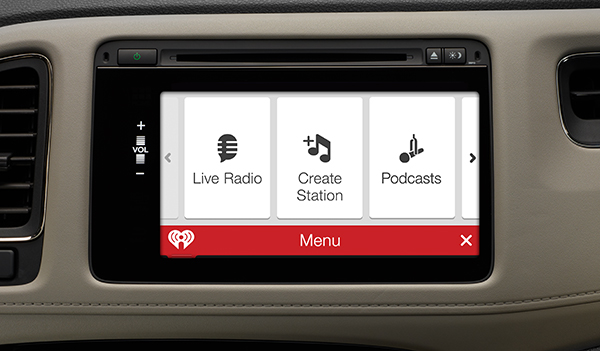 iHeartRadio for Auto
is available to Honda drivers via the iTunes App Store (note that users must also have the
HondaLink App Launcher
installed on their iPhones), so make sure to check out our newest integration the next time you hit the road in your Honda!